Article by Bro Sunanda Ooi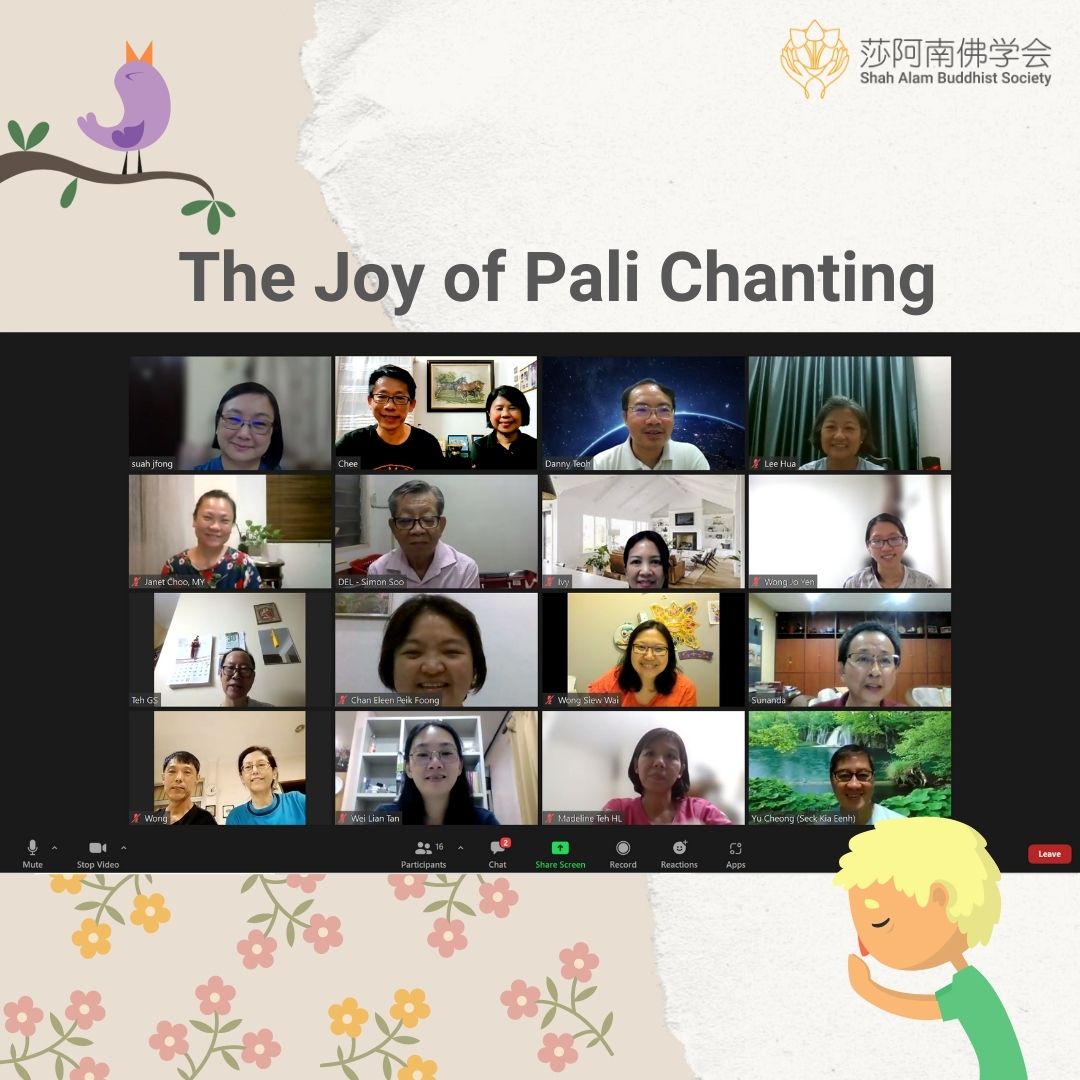 Read the last article here if you haven't already 😉
Every morning, during the times I was back at my hometown, I was to hear my late mother, holding a booklet, paraphrasing some verses unceasingly and uninterruptedly at the prayer altar. This will go on for easily 30 minutes and sometimes to nearly an hour. On one occasion I asked my mother, "ah Chim, lu liem keng ah? Lu aay hiau quar chek meh?" (In Hokkien: ah chim – how I called my mother – are you chanting? You can read from the book?) She gave me an enigmatic smile and embarrassingly brushed me off. You see, my mother did not go through formal academic education. I did not pursue the matter anymore with her and I was happy that she was happy doing her daily preoccupation.
Without knowing it then, my mother was in good company conducting an age-old tradition that has stretched for more than 2500 years ago. During the times of the Buddha, the Dhamma was taught and transmitted only in the oral form. And when the Buddha passed into Mahaparinibbana, Ananda who was the Buddha's attendant for 25 years recited the Dhamma to all the Arahants present at the following rains season.
Hence, the recitation of the suttas are the "words of the Buddha" and was originally chanted as a means of remembering the spoken teachings of the Buddha. Pali was the language in which the scriptures of the Theravada school of Buddhism have been preserved and passed down.
The seeds receive nutrients
The September month-long semester break looked to have rejuvenated the students of our Pali chanting class; they looked refreshed and one could feel a sense of determination amongst them. Even though two students have to drop from the class, it was a relief to know it was for reasons that are unavoidable due to their circumstances. They still welcomed the weekly class recording that I emailed.
By this time, 5 months later the SKE teachers have gone through 3 suttas with us, word by word and verse by verse. At the end of the first sutta, Karanīya Metta Sutta there seemed to be a growing appreciation for Pali the language in general, Pali chanting in particular from the students (with progress in fits and starts). There was also something seeping ever more slowly in now with the words in chanting seemingly coming alive. This is more evidenced in our own private space rather than at our Zoom classes where stress and anxiety pervade the virtual space (in my case). Music and songs come with musical notes and hence we have the rhythm or melody. But Pali chanting with the right placing of the Pali words together with the dragging of vowels, pause between double consonants, and aspirated effects have turned out to be a beautiful, mellifluous experience, a fitting and deserving expression – a legacy of our teacher.
We, the students are still not there yet. We know we have to climb Mount Sumeru first before the blissful view at the top of the summit. [Note: Mount Sumeru is the name of an immense mountain at the center of the world within Buddhist cosmology. Mount Sumeru is considered to be the axis of the world-system] And so we started the second sutta, Mahā Jayamańgala Gāthā. Pali's pronunciation can be deceivingly simple because it sounded very much like Bahasa Malaysia. Words such as putera, son; puteri, daughter; asmara, love; samudra, ocean; belantra, jungle; kenchana, gold; sukma, soul; and thousands of other words are all Sanskrit words, either in original or in modified form. [Note: It has to be noted that many of these Malay words may have their origin from the early Javanese language which is also of the same Sanskrit root. Sanskrit is very similar to Pali]
The simplicity ended when within one verse one has to dart between a drag of a vowel, quickly continue to the next word while expecting to perform an aspirated sound! How exasperating is it to climb Mount Sumeru with trees and bushes blocking your way, maneuvering the high and low gradients of the paths, and pushing forward the steep climb, and there at every turn, Danny will ask you to smile for the camera!
One day I asked a dogged student a question. I said "dogged" because during the first five months I have heard of him going through a series of eye injections and later for a cataract operation and still he was always there in the Zoom class and always the first in the queue to be admitted in. (He later printed the sutta in A4 size so he can read properly) If ever there is an award for the determination he will win hands down.
"Peng yew, lu jiu lu eh boh pi pi oak Pali chanting" (In Hokkien: Friend, you ask your wife to join the Pali chanting). He replied sheepishly, "Ee kong, ani kang kor mm mai oak!" (She said, "so difficult, don't want to learn" – after watching him struggling in his practice at home.) [At the time of writing this article, I understand that the person struggling in his practice at home is no longer struggling anymore, according to teacher Gek Seng]
We thought we will never reach this far but hey, we eventually started the third sutta, Mahā Mańgala Sutta. By this time, we are more than sure that we have chosen the right teachers to teach us Pali chanting. Whether by design or not, the four of them, Danny, Suah, Gek Seng, and Yu Cheong complement each other.
Yu Cheong who is not involved in the teaching, fulfilled the important role of the gate (house) keeper on the route to Mount Sumeru coaxing, encouraging, and motivating us.
Suah, is the experienced, good, and kind judge sharing the table with Simon Cowell. She knows the little breakthroughs we have made and let us know accordingly at the opportune time.
Gek Seng, the secret coach to some of us, and through his passion and love for Pali chanting just wants to continue the legacy SKE has built with his sharing.
And of course, Danny our teacher extraordinaire! He has paced us accordingly and with hindsight, I believe has the right approach to Pali chanting – grinding us on and on, sutta after sutta. I have a feeling that even those students that are time-challenged will squeeze in time to practise for Danny's breakout room. It reminds me of the old kung fu movie where the sifu demands the student to practise impractical and senseless exercises day-in-day-out. The student later found out in one fight with the enemy the 'impractical and senseless exercise' is a special kung fu technique that won the fight for the student. Hahaha!
The lotuses from the mud
Bro Danny has allocated three months – from October to December – to finish off the marathon-ic learning Pali chanting. We started the fourth sutta, Ratana Sutta which according to him is a relatively difficult sutta to chant. Either the September semester break rejuvenated our brain cells or the students have been making full use of the time to diligently practise, I do not know for a certainty. I guessed it was the latter. What normally takes 3 months of weekly classes to finish was to take only 2 months. The teachers were beaming ear to ear. As I have access to weekly chats with SKE facilitators, I can attest that they confirmed the overall improvement of the students. Whoopee!
So it was then that Danny decided that on 30 Nov, our last class, we are going to have a mini Zoom performance. Everyone will perform including those that have professed to have stage fright or rather called Zoom-anxiety syndrome (my term).
On that eventful day, 2 groups and the rest as individuals performed under everyone's watchful but not critical eyes and ears for the students because the roles will be reversed. It was to be a memorable night with some performing better than others but far more important was the teachers from SKE have judged us to have acquired the skill and the ability to chant in Pali. I like to believe that the group has the potential to seamlessly move on to chant as a group.
SABS Buddhaghosa Chantingfarers is born
As the Pali chanting class has come to an end it is logical to form a group, not only to practise what we have learned but to move on. Even with four suttas under our belt, it will move us in good stead especially if we can improve on the group chanting techniques. With ever-increasing levels of cohesiveness the sounds generated by the group will sound harmonious and the energy uplifting to the hearts and mind.
The journey has been joyful for me; the climb to Mount Sumeru itself has been part of that joy. As I assiduously practise, I can now 'feel' and 'hear' the mistakes that I made as I chant along. Sometimes I can even 'will' myself against my uncontrollable mistakes of pronouncing the wrong vowel sound of 'a' when it is in the second syllable.
Chanting is now part of my morning fixture easing into the day calmly and peacefully with a joyful ritual. My new puja book is slowly adopting a look that has gone through with constant leafing through the pages chanting and practising the suttas, reading and understanding the English version, and deciphering the Pali words.
For sure, each student has their reason to join this Pali chanting class and it is not far-fetch that those reasons could range from curiosity to a perceived value. On a celebratory note, I would like to say this dhamma path have taught us that through determination we can overcome hurdles (brother with cataract operation); through persistence and patience we can discard old baggage (yours truly with old habits of wrong pronunciation); through the sheer beauty of Pali chanting it is for one and all (we have 2 millennials in our midst).
It has been said there are 84,000 dhammas but this one dhamma for all of us students is an endearing and joyful one.
It is fitting to hear what the late Chief Rev Sri Dhammananda said in one of his memorable quotes. "Chant these suttas with devotion and confidence to invoke the power of Truth of the Buddha's words. Understand its meaning and put it to practice. You then can build strong protection and shield against various forms of evil, misfortunes, sickness and influence of the planetary systems while instilling confidence in your mind to achieve final liberation."
—
Post script: At SABS we have a Pali chanting group with Thai style, which incidentally is one of my favourite chanting groups in town with its powerful and exquisite rendition of the suttas. I like to think that the Buddhaghosa chantingfarers is akin to the banjo and Thai style chanting is the guitar in the rendition of the song, "Dueling Banjos" from the movie, Deliverance. Not dueling but analogous to both chanting groups delivering the same dhamma message using two different means respectively.
Incidentally, once Buddhaghosa chantingfarers has gotten their act together in the first three months of 2022 we will start recruiting new students. For a start, we will welcome you with SABS's recently published puja book. Do join us.
Contact Person: Sis Buddhikā Chung +60 10-523 0055